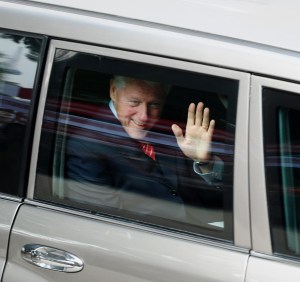 Joining the ranks of personalities like Mike Tyson and, nearly, Mel Gibson, Bill Clinton will make a cameo in The Hangover 2, a spokesperson told People.com.
The vegan former president shot his appearance in Bangkok on Saturday, where he also gave a speech on clean energy.
The press has been following the film's cameos closely. It was reported earlier that Mel Gibson would be making a redemptive turn in a scene where he plays a tattoo artist, but the idea was soon nixed by cast members offended by his involvement.
President Clinton has not stepped into the role of the tattoo artist, though. That job fell to Liam Neeson. Mr. Clinton will instead play himself.