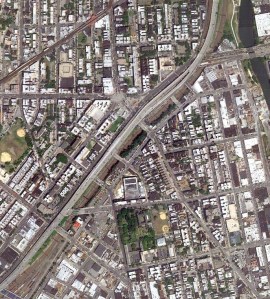 In the early-morning hours, when most New Yorkers are sleeping, thousands of trucks thunder in and out of Hunts Point's industrial sprawl.
Roughly 60 percent of the city's produce is shuttled through the peninsula's food distribution center, the largest wholesale food market in the world and, since 2005, home of the historic Fulton Fish Market. Next week, the market's busiest of the year, hundreds of thousands of pounds of cranberries will pass through its arteries and out to grocery shelves.
Beyond the walls of the distribution center, the neighborhood is animated by its own set of rhythms and awakenings. Once a rural enclave where wealthy Manhattanites planted luxuriant estates and summer mansions (Tiffany Street is named for one of the early settlers, H.D. Tiffany, of the Fifth Avenue Tiffany & Co. clan), by the early 20th century, subway lines and the shuttled masses had disturbed the scenes of pastoral aloofness. In the 1970s, Robert Moses steered the Bruckner Expressway across the South Bronx, splitting the neighborhood and displacing residents.
But today, a more community-directed development is taking shape. Work began this summer on the South Bronx Greenway, a series of projects intended to connect the neighborhood streetscape to its waterways and create more livable streets.