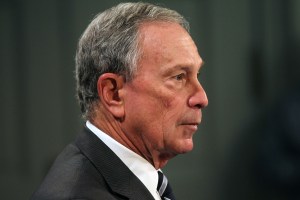 At an afternoon press conference, Mayor Michael Bloomberg denied having called President Obama "the most arrogant man I've ever met," as Rupert Murdoch relayed to the Australian Financial Review last week.
"I don't remember the conversation that way," Bloomberg said. "I do not think he's arrogant."
As for Rupert Murdoch, he declined to say if he felt betrayed by his publicizing their private conversation.
"I think Rupert Murdoch probably agrees with me that it's time to get on, we've got to make this country work," the Mayor said.
The best way to do that, the mayor added, is to put aside partisanship and come together in support of President Obama.
"We need a good functioning President. He was elected democratically. I happen to think he's a very smart guy."
The Mayor said that he had not reached out to Obama personally to clear the air.
"The President is in India worrying about a lot more important things. The last thing he needs is a call from me," he said.
Bloomberg also tried to downplay his comments to the Wall Street Journal over the weekend that members of Congress couldn't read.
"It isn't that I said they can't read in the sense that they don't understand the words. They don't understand the history," he said. He said that a historical understanding was important to solving issues like immigration, gun control, deficits, and social security.
"People have to read what happened in the past. One after another of these big problems, it's not just Republican or Democratic, it's both. I don't think that this country is facing the issues that really are the ones that we need to face if we are going to have a future."
He said that in travels to Asia he had noticed different standards of qualification for government positions.
"When you look at the resume of somebody in government, almost all have graduate degrees, and more than one, almost all of them have experience in what they are doing. […] You can argue that it's not democratic, but people would not stand for election in a lot of these places unless they had the credentials to do so," he explained.
The Mayor also updated the press on the status of his daughter Georgina, who suffered a concussion after falling off her horse at a competition in Syracuse this weekend.
"The doctors say that all her cognitive skills are back.[…] She has some cracks in some vertebrae, but it's not clear those didn't come from the last time she broke her back, so we're trying to get the old x-rays. She's was going in for an MRI last I checked and I'll talk to her later today."
"It's a dangerous sport. She's broken a leg, a foot, collarbone. One time I went to a Jets game, I think it was. Most of the time George and I were down on the field. She was with this football player who weighed 300 pounds and they were comparing injuries and he just kept looking at her, she had more than he had."