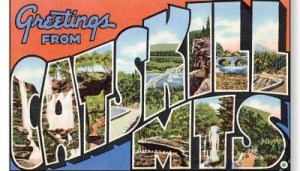 The state is once again rolling the dice on a casino in the Catskills. Yesterday, Governor David Paterson signed an agreement with the Stockbridge-Munsee Band of Mohicans to build a new casino and resort in the economically depressed hill country upstate.
It is not the first time such a project has been attempted — the most recent one fell through two years ago — but the hope is that a land-settlement deal, by which the band gives up a 230,000-acre claim in Madison County in exchange for 300 acres in Sullivan County, will help soothe federal regulators who must approve the deal.
State lawmakers see the project as a boon because it will keep gamers from fleeing to Connecticut, New Jersey and Pennsylvania for their gambling needs, while also helping to revive the local economy. "This compact is a significant step toward revitalizing the economy of Sullivan County by building on its legacy as a tourist destination," Governor David Paterson said in a release, alluding to the area's history as a haven for Jewish vacationers.
(Whether casinos are actually good or bad for the community, if not the economy, is perhaps a debate for another day.)
Still, given the difficulties in the past, some locals remains skeptical. "It's been happening for the 40 years I've been here," Jim Collins told the AP. "I've bet on it a couple of times. I've lost." Yet Senator Charles Schumer said at yesterday's announcement that he would fight hard for the project. "This time can be different," Schumer said according to the AP. "This casino is not a guarantee, but it is the closest we've come so far."
Very convincing. Yet why elected officials are so dead-set on gambling is slightly confounding, given that Atlantic City has all but given up on gaming and seems to be doing just fine. Perhaps they have casino envy? Or maybe it's just all the taxes dangling before their eyes.