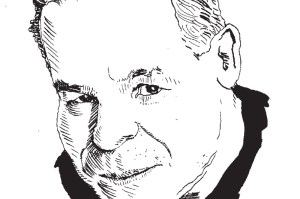 The surprise that greeted Mayor Michael Bloomberg's announcement of the exceptionally unqualified Cathie Black, the former chairman of Hearst Magazines, as the city's new schools chancellor was par for the course. The very fact of Mr. Bloomberg as mayor is an ongoing surprise. His political ascension in New York is as unnatural an event as a typhoon in Ohio.
In a capital of the world that has always prided itself on a rich public life, Mr. Bloomberg is devoted to managing government like a private enterprise. To go from the hot banter of Lindsay's, or Koch's, or even Giuliani's news conferences to Mr. Bloomberg's petulantly ignoring a question by saying, "I have a city to run"–yes, well, that's what we want to talk to you about, if you have a minute–is to go from being a rambunctiously engaged citizen of New York to feeling like the frustrated client of a remote service provider. In a place that demands colorful candor from its mayors, he is secretive and peremptory, hiring Ms. Black without any kind of public discussion. His reason for not holding an open search for Ms. Black? "To go through a lengthy search process in the middle of our school year is just not something that is in our kids' interest." You know just what he means. "Tommy, why don't you have your homework?" "I'm sorry, Ms. Cohen, but I have been dismayed and distracted by the unnecessary public discussion about who the next schools chancellor should be." In a city that loves the drama of kicking wealth and power every bit as much as the drama of creating them, the mayor's pedestrian sweet tooth for the trickle-down economics that thrill rural America is downright perverse.
And in the city of the Draft riots, and the Columbia student protests, and Stonewall, and bohemian dissent, and bristling intellectuality, and Baldwin, and Mailer, and Steinem, and Hamill, and Kramer (Larry), and William F. Buckley, for heaven's sake–in this primordially independent and troublemaking place, Mayor Mike buys himself the right to run for an unprecedented third term, and then carpet-spends his way to an easy win.
Chutzpah? Try contempt. The chutzpah would be to defy him. But he gets his third term with no more than a hushed protest from his once-ferocious city-state. Under Mr. Bloomberg, the city that never has to sleep has become the city that doesn't make a peep.
Blame, in part, 9/11 for the passive age of passively aggressive Mayor Mike. The attacks brought Gotham to its knees and made it susceptible to the strongest suitor, whose wealth and power were like a father's calming words. Blame the economic meltdown, after which the city's First Businessman presented himself as a god of finance who knew how to keep the city solvent–despite the fact that Mr. Bloomberg had strenuously opposed the regulations that would have averted the meltdown in the first place. And blame the abrasive Mr. Giuliani. Mr. Bloomberg is that low-key, laconic, stabilizing guy a girl settles for and marries after the hysterical ups and downs of the thrilling, bad, destabilizing guy who drove her crazy and strung her along. Then, one evening, the calm, reassuring husband introduces his new wife to the house rules …
But blame most of all that fabled fortune of his. Mr. Bloomberg isn't a Democrat, or a Republican, or an independent. He's 18 billion dollars. That's his party, his ideology and his intellectual commitment. Eighteen billion dollars. Count 'em. Or, rather, you can't count them. You can't even imagine counting them. That kind of money is beyond money. It is a new element off the Periodic Table; it is a fifth season; it is a third gender. If New York had a subconscious, and the subconscious had a name, it would be called "Eighteen Billion Dollars." Mr. Bloomberg's unimaginable wealth is the city's fever dreams and sweating nightmares all rolled up into one impeccable pinstriped suit.
When people say Mr. Bloomberg should run for president, they don't mean he has the qualifications or achievements to win. They mean he has the money to win. Despite his heroic support of the Park 51 mosque, his achievements come down to important but minor quality-of-life issues, like banning smoking and trans fats in restaurants, and creating a precious handful of open spaces untrammeled by traffic or commerce. He inherited a city that was the product of other mayors' triumphs and ordeals. It was flush with money, and low on crime, and grateful to still be standing; it was a city whose earlier racial and ethnic fractiousness had, for the moment, been stilled; a city that was as tired of theatrical mayors as it was disdainful of preening movie stars. The physically unprepossessing mayor seemed reassuringly smaller than life in a place whose inhabitants were struggling to once again feel larger than life, and that's just how people liked it.
Small but titanic. Along with being New York's first billionaire mayor, Mr. Bloomberg is the first one to have made his fortune in media. Buttoned-down and unscandalous, he is Berlusconi without, one might say, the sconi. If you work in media, you either know him, or know someone who knows him, or know someone who knows someone who is socially connected to the mayor in some way. And who can say what media property he'll buy next? Mr. Bloomberg's gravitational force affects everyone who might be in the business of consequentially criticizing him. (For example: Go after him, and you can forget about opining on the Bloomberg L.P.-funded Charlie Rose Show.) His enveloping wealth produces all the effects of corruption without, itself (as far as we know), being corrupt.
Machine politics derives its staying power from putting the "little people" on the payroll. Mr. Bloomberg doesn't need to do that. He puts business-executive friends like Robert Lieber, Daniel Doctoroff and Patricia Harris–many of whom shuttle back and forth between his media business and his mayoral administration–in charge of the payroll and centralizes the system so seamlessly that top-down management performs the ordering function of a political machine. The whole thing stinks of undemocracy. When Mr. Bloomberg's rich appointees boast that they are taking only one dollar as an annual salary, they want to demonstrate a public servant's self-sacrifice. But what they are really doing is displaying an investor's indifference to the relationship between money and work. They are redefining responsibility in government. If the public doesn't pay their salary, then they are not accountable to the public. The result is Tammany Hall with a Carnegie Hall face. Mr. Bloomberg is not Boss Tweed. He is Boss Pinstripes.
Mr. Bloomberg admirably made his fortune as someone who manages, and like everyone, his philosophy of life is defined by his path to success. Defending his choice of Ms. Black to John Gambling on the radio, he said: "This is a management job, John. It's 135,000 employees, it's $23 billion dollars of the public's money and 1.1 million kids that we have to get services to." The idea that good teachers are professionals and no more "employees" than doctors or lawyers are "employees," or that learning is not a "service" like getting broadband, will never occur to the businessman-mayor who bought his way to a third term in office the way someone with money simply buys what he likes.
The scary thing is that this guy could well be thinking of running for president. To borrow from a famous song: If he can pull this autocratic business here, he can pull it anywhere.
lsiegel@observer.com