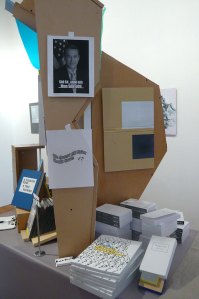 Small hand-crafted books, appropriated preexisting books, e-books and break-your-table monographs–drawn from more than 280 international presses, booksellers, antiquarians and artists from 24 countries–these were the stuff of the NY Art Book Fair last weekend. Presented by Printed Matter since 2006 and now in its second year at MoMA P.S.1, the fair accommodated exhibitors on three floors in a rabbit warren of booths, galleries and conference rooms, both formal and makeshift, that flowed one into the next, blurring the boundaries between exhibition spaces. And as the physical boundaries between exhibition spaces sometimes lacked clear distinction, so did the definition of art book publishing. Any surface was fair game for expression. Any artist could call herself a publisher.
This mutability, combined with the sheer volume of material, could be overwhelming. The well-established purveyors John McWhinnie, D.A.P. and Sims Reed Rare Books showed their huge art monographs, Fluxus ephemera and rare zines straightforwardly on tall shelves and in glass cabinets. Others, mostly smaller, newer presses, had difficulty deciding whether their wares were books, fanzines or graphic novels. And they didn't seem to care. In Division Leap, old books were being converted into new books, as printed stories and images were literally cut and pasted into old books.
Some discussed publishing on multiple platforms, both print and digital, with boundless energy from creatively designed booths. "Our goal is to publish as fast as possible," said Ian Cheng the director of Badlands, a publishing company started by artist Paul Chan because he was disillusioned with the lack of quality control and pace of distribution of his own work through existing publishing channels. "If an artist sends us a scrapbook, we'll be able to publish it the next day via digital platforms," said Mr. Cheng, who spoke from behind two tall architectural cardboard displays. "We're looking to go beyond the experience of just reading."
He presented The Observer with an iPad on which there was a video of a projection of flickering, silhouetted images of naked human bodies in erratic, rhythmic and orgiastic movements. The video was part of the e-book Sade for Sade's Sake, which also contained a collection of "Sadean fonts," fonts that Mr. Chan created that enable the user to produce, from preexisting writing, new work with a sexualized grammar, with letters replaced by erotic words, phrases and pauses. (For example, the word "fluffy" in the font "Oh Justine" becomes: "Tortured, sodomized, horribly tortured, tortured, branded." In the font "Untitled," the same word becomes: "righthere harder … righthere righthere (:07 pause).") Next to the fonts was Phaedrus Pron, Mr. Chan's rewriting of Plato's Phaedrus using a variety of his fonts, which Mr. Chan considers an "art book" as opposed to a work of literature. Badlands' next undertakings are "experimental e-books" or "broken e-books," said Mr. Cheng. "E-books that don't function the way they're supposed to."
Showpaper, which is a fly-away sheet of newsprint folded down and distributed for free in galleries and cafes that gives listings of music shows and displays one illustration per issue, was being bundled into large fancy box sets and sold as fine art. Out in the halls, though, many past issues of Showpaper were stacked along the walls, which you could pick up for free, calling into question our notions of value. Even the Badlands booth appeared both modern and as if it could easily be kicked down.
Friday night The Observer attended a Pecha Kucha, a rapid-fire presentation where presenters were given five minutes to present a slide show of art books they're fond of. Artist Susan Thomas talked about zines. Alexander Mouton showed artist books from Iran, but rather than speak during his presentation, he gave an introduction and then put on music while the slides switched automatically. Ellen Lupton explained how she became interested in Julia Weist's manuscript Sexy Librarian, which Ms. Weist began as an art project on failed literature and involved the presentation of her rejection letters from publishing houses.
One room had walls that were green chalkboards covered in scribbles saying things like "Thingness" and "Politics of Images," among longer phrases and paragraphs, some crossed out. Hallways were covered in stickers. Walls were adorned with posters, hand-printed tote-bags and T-shirts. Walking through the rooms, one sensed the impending departure of the whole exhibit, and there was something dynamic about its transience. Even the café had a handwritten sign over the food window that said "Ad-Hoc 2-day Café."
On the last day, The Observer sat in on Mr. Chan's reading of Phaedrus Pron, which sounded like carefully organized and rhythmic sexual gibberish. He took a break to explain the work to the audience. "It's not nonsense," he said. "But not sense." These words offered an odd sense of optimism. Whether an artist considers himself a publisher, whether a book is considered an art book or a work of literature and whether that work is embodied in a physical object or a digital file, all these options present greater control for both artists and readers. Here's to the broken e-book.
editorial@observer.com