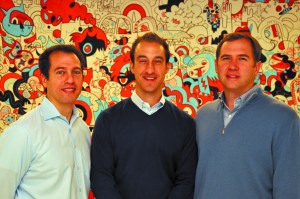 After work on Thursday, Nov. 18, about 100 software engineers walked through the front doors of 770 Broadway near Astor Place and made their way up to the sixth-floor offices of AOL. The group, mostly young men, were specialists in machine learning, a discipline related to artificial intelligence that involves writing algorithms that improve over time as they are exposed to large data sets. The reason for their visit to AOL was a talk being held there by an assistant professor in the computer science department at Princeton. Upon entering the building, they breezed past the front-desk security guards, who were used to seeing them and knew what they were there for.
The machine learning guys, some of New York's most ambitious technologists, have been coming to AOL since last spring, when the company agreed to donate space in its massive office complex for the group's monthly meet-ups. That act of goodwill was part of an aggressive ongoing effort to improve AOL's reputation in the New York tech community, a campaign being mounted by Mike Brown, the co-founder of the company's year-old venture arm, AOL Ventures. Mr. Brown's hope is to change the way AOL is seen by entrepreneurs and engineers–to erase its reputation as a moribund dial-up dinosaur and thereby neutralize the biggest obstacle he and his partners, Jon Brod and Brad Garlinghouse, face as they look for start-ups in which to invest the changing company's money.
Mr. Brown, who is in his late 20s, joined AOL Ventures last winter with a mandate to make investments in early-stage start-ups–so far the fund has backed companies like Sailthru, Solve Media and bit.ly–and he has been working ever since to earn credibility and respect in the New York tech world for himself and the company that backs his fund.
"There's a lot of negativity around AOL–you can read it wherever; it's all over the place," Mr. Brown said in an interview last week, seated at a table in the company's sixth-floor kitchen area. "But people come in here and I think they're wowed by this whole space. It's fresh. It's new. They see we're emerging, and think, 'Huh, these people are actually interesting.' This is not your old AOL."
That much is indeed obvious as soon as one steps into the company's offices, which were renovated in early 2009 and transformed into something of a futuristic fun house, all spacious and curvy and aggressively white. There are winding counters where employees are encouraged to eat lunch and hang out, and little nooks known as "creativity huddle areas" cordoned off with dividers resembling shower curtains. Oversize blocks emblazoned with pictures of imaginary creatures are stacked on top of each other in one hallway, and an aromatic gingerbread house that could house a Saint Bernard stands in the middle of another. Monitors mounted along walls throughout the space cycle through a series of new AOL logos set against a set of cutesy, colorful drawings. The aesthetic takes a page from the famously playful Googleplex: The message seems to be that AOL is a place that values fun and weirdness in service of innovation.
The building is a key plank of the company's campaign for the hearts and minds of the city's tech community. "These guys basically told me, 'The biggest problem that we face in New York is space constraints as we start to grow our organizations,'" Mr. Brown said. "I got that from probably 10 technology-centric groups."
So far Mr. Brown has arranged for eight monthly tech meet-ups to be held at the AOL offices, including ones devoted to predictive analytics, R statistical programming and programming languages like Python and Ruby on Rails. He has also hosted a number of events for the young techies of NextNY, as well as a start-up job fair held last April that attracted about 1,000 people.
"Mike's whole goal is just to really get to know people in the actual tech scene–he wants AOL to be an epicenter for people doing real tech stuff, as opposed to marketing or just talking about tech," said Paul Dix, the organizer of the machine learning group and the co-founder of market.io. "He has a preference for people who are the builders. For Mike, it makes total sense, because that's deal flow. At this point, the people who are holding most of the cards as far as early-stage start-ups go are the people who can actually build, so if he knows all the builders beforehand, he can get early deal flow and find out which things he should be investing in for AOL Ventures."
But Mr. Brown's outreach is more than just marketing for the venture fund: His outreach efforts are also part of a broader campaign to reinvent AOL as a forward-thinking media company with a dedication to fostering innovative technology, which has been under way since it split from Time Warner at the end of 2009 and former Googler Tim Armstrong was installed as its CEO.
According to Francis Hwang, who helps run the Ruby on Rails meet-up and is the CTO of Profitably.com, one thing AOL has achieved by hosting events is prompting young and gifted engineers to rethink their assumptions about the company. Hosting events is also a way of getting access to top programming talent, which Mr. Brown could then theoretically funnel into his portfolio companies.
"To most everyone, AOL was the company that mailed you all those CDs so you could get on a 56K modem when you were in grade school," Mr. Hwang said. "There are a lot of people who are like, 'I'm gonna get a job at Google or Facebook and it's gonna be awesome!' You wouldn't really think of AOL as being in that same league. But if you were going to the meet-ups, you might start wondering, like, 'Oh, I thought AOL was totally lame, but …"
Mr. Hwang added: "The No. 1 problem in the New York tech scene is, there aren't enough programmers, so any company that wants to play in the tech space and play seriously has to think about recruiting. If you're a top-notch programmer, you hear so many job pitches it just becomes noise after a while, and you just stop paying attention."
"They're trying to attract better talent," said Alex Horn, the recent Columbia graduate who organized the start-up job fair. "The first step to doing that is reaching out to the community and saying, 'Hey, we're hip and we want to support your stuff.' They want someone who would previously want to go work for someone like Google or Facebook or any big start-up that's hot right now to say, 'Hey, maybe I'll also drop off my résumé at AOL.'"
People who have attended the meet-ups say Mr. Brown has approached his role as ambassador to the tech community with a pleasingly light touch.
"At no point does someone from AOL stand up and give a 15-minute spiel about what they're doing," said Drew Conway, who heads the R statistical programming meet-up. "They're very much hands off."
Mr. Brown wouldn't disclose how many people have been hired by AOL or by one of the venture arm's portfolio companies as a result of the events he has brought into the building, but said there was a "multitude of tangible benefits" that have come with it.
"A lot of people beat down AOL, but I think it's an amazing thing, that we're out there, that we're getting active in the community. You never heard of AOL for four years! They were completely irrelevant to the world!" he said. "My whole thing was, connect AOL to the new ideas marketplace. … The more people are exposed to this place and see what we're all about, the better–it makes us relevant again, if you will."
lneyfakh@observer.com