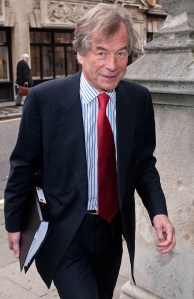 Martin Broughton doesn't like to take his shoes off. At least not when passing through airport security. The CEO of British Airways recently made headlines publicly deriding the U.S. Transportation Security Administration (TSA) for demanding excessive security measures from U.K. airport officials, telling the Financial Times, "America does not do internally a lot of the things they demand that we do. We shouldn't stand for that." But, apparently, he is.
Despite the business mogul's dissatisfaction with the TSA, he and wife Jocelyn will likely be submitting to more frequent security checks at airports in the greater New York area. According to city records, the Briton who was also chairman of Liverpool Football Club until last month, purchased a $2.9 million apartment in the Schwab House on Riverside Drive from John and Tania Secor.
Mr. Broughton, who stepped down as chief of the favored football team when Boston Red Sox chairman Tom Werner took over, may have fared better than his successor. While Mr. Werner's nascent tenure is tarnished by heavy losses and low scoring, Mr. Broughton managed to score a "sprawling, pristine, 4 bedroom home," according to the Douglas Elliman listing with Ann Cutbill Lenane and Deidre DeRisi. The unit is a combination of two apartments at the full-service Upper West Side co-op, which includes doormen, a concierge and an on-site managing agent–sounds like British Airways isn't the only one that will take more care of you.
cmalle@observer.com