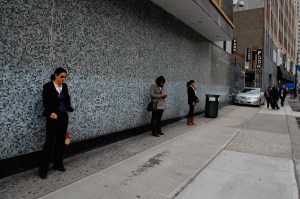 A note to slumlords: Don't try to evict old people.
When the news broke recently that David Bistricer, a managing member of Berkshire Capital, was collecting millions in rent from the city — some of it because he owns none other than the Kings County Housing Court — it made barely a ripple. But try to evict senior citizens by accusing them of partying like frat boys and be warned: people will notice.
A letter Mr. Bistricer sent to one tenant, Victoria Davis, said: "You … or guests of yours, have been observed smoking, drinking alcohol, loitering and gambling in the common areas of the building," according to the Daily News. Except that Ms. Davis is 69, has had several strokes, and claims she hasn't touched a drop in years.
He might have learned from another Brooklyn landlord, Moshe Piller, who tried to evict a 92-year-old Holocaust survivor and found himself involved in a similar media firestorm.
The paper doesn't give Mr. Bistricer's side of the story and the landlord declined to answer the The Observer's questions.
A number of Mr. Bistricer's buildings are already on Public Advocate Bill DeBlasio's Worst Landlords Watchlist. The landlord has nearly 6,500 open violations with the Housing Preservation and Development department (HPD). He's also attracted some media mention for his unsuccessful bid to take over the massive affordable housing complex Starrett City.
But mostly, in a city where bedbugs are house pets and mold a designer touch, Mr. Bistricer stays out of the dim spotlight the city tries to shine on the city's decrepit housing. The most depressing takeaway from this story is then not that David Bistricer tried to evict old people, but that if he hadn't he might have continued to get away with everything else.