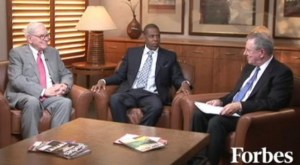 Todd Combs, the man adorable billionaire Warren Buffett has selected as the director of Berkshire Hathaway's $113 billion investment portfolio, isn't going to dive right in to managing the whole enchilada all at once. Fortune reports that Combs will be starting off with an investment fund in the $2 billion to $3 billion range — still a big step up from Combs' $400 million Castle Point fund.
Fortune also offers some insight into Combs' compensation — an issue that had previously been raised in a round of speculation as to whether a bigger fish like David Einhorn had been in the running to helm Berkshire's portfolio:
Combs will be paid, says Buffett, as Simpson has been: by salary and an incentive compensation plan that gives him a proportion of the amount by which his performance beats the S&P 500 over a three-year period. Says Buffett, "You want to get away from the short-term ups and downs of the market when you're paying someone for running money, and a plan like this does the job."
So all Combs has to do is outperform the stock market and eventually assume management responsibility for a portfolio that's 50 times the size of what he starts at Berkshire with (and is 200 times the size of his shrimpy little Castle Point fund). Must be comforting to know he's easing his way into the job.
mtaylor [at] observer.com | @mbrookstaylor