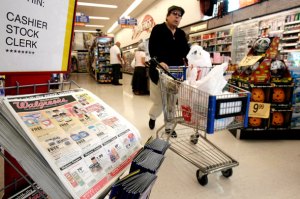 The marketplace bears some of the responsibility for turning Harlem into a barren wasteland of chips and cheap takeout. Could it also save it?
Walgreens, which along with many big chains has been accused of failing to sell decent produce and turning many areas of Manhattan into so-called "culinary deserts," has launched a fresh food section as a pilot project, with 10 locations around Chicago selected based on their lack of nutritional offerings.
Duane Reade has been rolling out similar stores in New York City, with valhallas of international cuisine offering sushi, grilled vegetables and chevre sandwiches and gourmet caramel rice pudding. And it sounds like if Big, Bad Walmart comes to town, it would also have some fresh food options.
The Observer went on a ruffage hunt in Harlem and East Harlem this weekend–just two of this city's culinary dry spots. The CVS Pharmacy at 125th and Lenox did have a couple of carrot sticks and some frozen Lean Cuisines , but hardly the place to travel for a serious vitamin fix. The Duane Reades fared even worse–unless you count the ubiquitous Pop Chips as a health food.
Of course, it's the classic chicken versus organic egg salad problem. Do poor people not eat nutritious foods because they're not available, or are nutritious foods not available because poor people don't eat them (for reasons like lack of nutritional education, cost or just habit)? One indication that it's the former is that after the city recently lifted licensing restrictions on fresh fruit and vegetable vendors, these tiny islands of green have been popping up all over poorer nabes.
The Observer can only hope that if the Chicago project goes well, this is all soon to change. But we're not chucking the vitamin C pills in our kitchen cabinet quite yet.
(An earlier version of this article mistakenly identified the drugstore at 125th and Lenox as a Walgreens. The Observer regrets the error)
lkusisto@observer.com