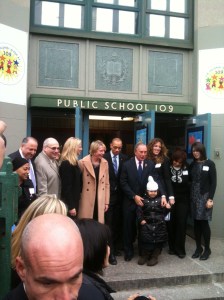 Cathie Black held a brief photo-op with reporters in front of P.S. 109 in the Bronx today before heading inside to meet with teachers and students.
The meet-and-greet came one day after state education commissioner David Steiner granted Black the waiver necessary to allow her to become city schools chancellor next January.
Black was asked if she had a message for parents on her first day of school. "That I am a big listener and I want to learn and I want to meet them and hear their concerns one-on-one as much as I can," she said.
Black was joined by the principal of P.S. 109, Amanda Blatter, and Mayor Michael Bloomberg, who said, "This is a good day for New York City, and particularly for these kids."
And with that, Bloomberg turned to what he called "the chancellor-elect, or whatever it is," and said, "You are in charge."
Apologies for some of the cinema verite of the hungry media scrum, but here is video: