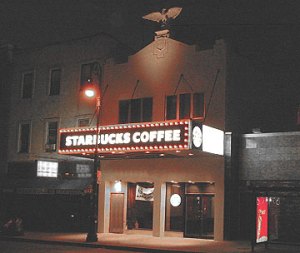 Yesterday we learned that R.J. Reynolds, the enormous cigarette manufacturer, would be rolling out a new type of Camels: Williamsburg Camels. Why would that cigarette company take this quaint neighborhood in Brooklyn, exploit it, and use its imagery to lure teens to cigarettes? Oh, right, because they believe Williamsburg is "the most famous hipster neighborhood" in the country. Needless to say residents were less than pleased.
Now, The New York Times discusses more evidence of commercialism that has blood boiling across the East River. With the area's second Duane Reade newly opened, and a CVS and Starbucks on the way, those who count the plight of independent stores among their hard-fought causes are up in arms about the imposition of chains.
"Duane Reade is greed," Jonathan Schmidt said after shopping at King's Pharmacy. That store is directly across Bedford from the new two-story, 24-hour Duane Reade, which features aspirin, liquor, cosmetics, stationery, frozen food, cold cuts and produce, including three kinds of cherry tomatoes. "It's becoming the East Village."
Williamsburg, though, is probably still a far cry from the East Village. Within a one-mile radius of Allen Ginsberg's old apartment — a candidate for East Village epicenter if there ever was one — there are nine Starbucks locations.