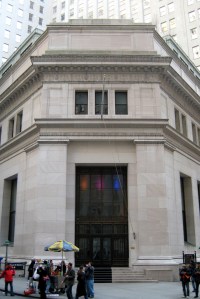 China is tired of foreigners pumping dollars into its overheated property market. It's not the only one, but now it's shot back by banning foreigners from investing in any residential or commercial properties that they don't intend to use.
The new law is supposed to cool down the country's overheated property market, but as the Journal notes, since foreign investors make up less than 1 percent of the market the law will make little, if any difference. Instead, it's likely to add more instability to a market that already jitters like a second-class train car.
The Observer is also inclined to point out that buying choice properties and letting them sit there is exactly what the Chinese have been doing here in New York. See the lovely and long-empty former JPMorgan Chase headquarters at 23 Broad Street, which was purchased by China Sonangol, a company with ties to the Chinese government and possibly the country's intelligence community.
But in a round-about way, this might actually be good news for New York. What makes the city so attractive to foreigners is that it's perceived as a free and reliable place in which to invest. Score another one for democracy.
lkusisto@observer.com