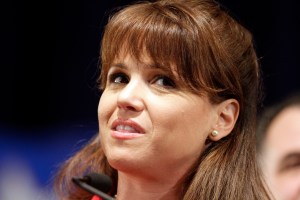 Failed Delaware Senate candidate Christine O'Donnell didn't give in to Bill Maher's talk show terrorism. In an appearance on the "Tonight Show" Thursday, O'Donnell said she declined to go on HBO's "Real Time With Bill Maher" after the host threatened her with unflattering footage.
"I wanted to do the show, we just couldn't get it worked out … And then, my sister and I were watching the show when Bill made his threat, and I just thought . . . whether it's a comedian or a terrorist, you should not respond to threats," O'Donnell told Leno.
O'Donnell was a guest on 22 episodes of Maher's old talk show, "Politically Incorrect," which aired from 1993 until 2002. In September, Maher began the new season of "Real Time" with a message for O'Donnell.
"Christine, if you're watching, I created you. You need to come on this show. if you don't come on this show, I'm going to show a clip every week," he said.
Maher then proceeded to air an 11 year-old clip where O'Donnell discussed how she once "dabbled in witchcraft."
"One of my first dates with a witch was on a Satanic altar," said O'Donnell in the clip.
The witchcraft clip became a viral video sensation and prompted a 30-second commercial where O'Donnell informed television viewers that she's "not a witch."