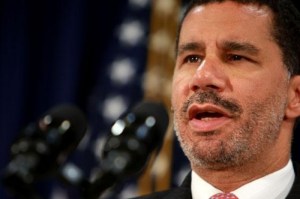 The Civil Service Employees Association is releasing a FOIL request that shows that Governor David Paterson has hired 36 top-level managers at the Department of Environmental Conservation, despite a statewide hiring freeze.
Half of those hires make over $100,000, according to the CSEA's FOIL. Paterson has threatened to layoff nearly 900 state workers.
"This is the height of hypocrisy," said CSEA spokesman Stephen Madarasz. "It's just an absolute affront to the people who are being put at risk and to the taxpayer. How can he come to the CSEA in any serious way and say we need to have layoffs when this is going on?"
Ex-DEC commissioner Peter Grannis warned in a memo last month that staff reductions were having a major impact on the ability of the agency to do its job and would soon impact local environmental protection efforts. Once the memo was leaked to the media, Grannis was promptly fired.
Most of the new hires at $100k+ are environmental engineers.
We have reached out to the Paterson administration for a response and will update when we receive one.