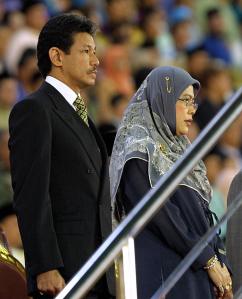 A Manhattan judge issued a gag order yesterday when it became apparent that the case may soon feature statues depicting the Sultan of Brunei's oversexed younger brother, Prince Jefri Bolkiah, in flagrante delicto. The statues come from the prince's Long Island estate, Sunninghill, where they were reportedly positioned around the swimming pool.
The Daily Beast probably has the best photos.
The statues are by no means integral to the lawsuit, which Prince Jefri brought against two of his financial advisors when the 28-acre property sold for just $11 million, saying it should have brought him at least $7 million more. The brass statues were commissioned for $1 million, crafted by the well-known artist J. Seward Johnson Jr., who apparently had no idea he was supposed to have been depicting the prince himself. Jefri-esque moustaches were added to the statues after their completion.
Prince Jefri's lawyers have argued that photos of the statues could severely damage their case. "Polygamy is offensive to many Americans, and trial testimony about Prince Jefri's personal life may be prejudicial to him," their filing said. Too right! The Post's story has barely any details about the case, opting instead to list the lurid details of Jefri's private life. They even go so far as to compare him to Caligula, which is fairly absurd. Caligula wouldn't have been caught dead in a yacht called "Tits."