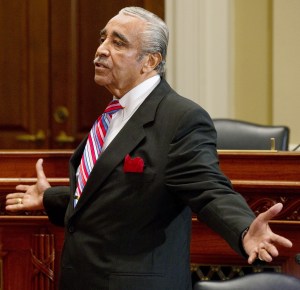 When the Congress reconvenes next week, one of the more closely-watched agenda items will the censure vote of Charlie Rangel. If Rangel is censured, it will mark the first time since 1983 that a member of Congress has faced the punishment.
Unless he cuts a deal beforehand, Rangel is widely expected to be censured, especially after the Ethics committee overwhelmingly voted for that punishment. But for the New York delegation, the question of whether or not to censure Rangel is an especially difficult one. While even Rangel admits that what he did was wrong, the Harlem congressman remains a beloved figure among the delegation, the one who as the longest-serving member welcomed newcomers to the House.
The Observer reached out repeatedly to New York's House members to gauge how they plan to vote on the Rangel question. Most refused to answer.
So far, however, Rep. Christopher Lee, Rep. Bill Owens and Rep. Tom Reed all stated their intention to vote for censuring Rangel. Rep. Gregory Meeks said that he would be voting against the measure. Four other New York congressmen–Rep. Peter King, Rep. John Hall, Rep. Edolphus Towns and Rep. Paul Tonko–all said that they were currently undecided and were unsure how they would vote at the moment.
Rangel was found guilty on 11 counts of ethics violations by a bipartisan commission last week. While the censure is a far cry from expulsion, which was also on the table for Rangel- it is certainly a degrading one, as Rangel will be asked to stand alone in the well of the House of Representatives and receive a verbal condemnation from Speaker Nancy Pelosi on behalf of her congressional peers.
Rangel was found guilty of using rent-stabilized apartments for his campaign headquarters, for improperly soliciting donations for a library named in his honor by using congressional letterhead, and for failing to claim over $600,000 of income stemming from a rental villa in the Dominican Republic in his tax returns.
In an email to his supporters, Rangel made his clearest apology yet.
"I apologize for the embarrassment I have brought upon you," he wrote.
"Thursday was one of the most difficult days of my life since I was left for dead in North Korea 60 years ago…I hope that you would judge me on my entire record as a soldier and a dedicated public servant – not only by my mistakes," he said.
We will update as we hear from more members of the delegation.