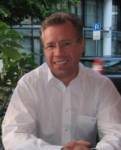 Myron Gushlak will be sentenced today at the Brooklyn Supreme Court for a $10 million money laundering scheme to which he pled guilty. He had planned to avoid jailtime by talking to the Feds about the Gambino crime associates, but failed to offer any meaningful information. Perhaps the Gambinos made him a better offer.
At any rate, the jail time could offer Gushlak a chance to work on his writing. The investment banker appears to have been a fairly active "premium author" on the content farm ArticlesFactory.com in 2008 and 2009.
Unlike most dry and servicey content farm writing, Gushlak's first-person essays are an earnest and thoughtful diary of a year of financial and political tumult. (Though he was writing from afar; "In 2000, Myron Gushlak relocated to the Cayman Islands due to its world-class banking and financial services industries," says his ArticlesFactory bio.) You get the impression he just needed an outlet.
On Batman:
"People understand the motivations of Napoleans and Hitlers who want to take over the world. But this idea of declaring war on somebody for the sole purpose of destroying them is a relatively new one to most, say something they have had to get used to since 2001. The Joker does not want to rule Gotham, or to steal all of its money. It simply wants it destroyed."
On the Presidency:
"Call me old-fashioned
, but I want the leader of the country to be better than me. I don't want to have a beer with my next president. I don't really care if he is a Democrat or a Republican; I just want him to be vastly more intelligent than I am. I want him to have far reaching opinions about issues I cannot quite get my head around."
On the Financial Crisis:
"I am fascinated by the mass psychology of tumultuous financial events such as the one we are currently in. I get impatient to know how it will all turn out, wishing I could fast forward to a more stable point in the future."
Any editors looking for a freelancer?