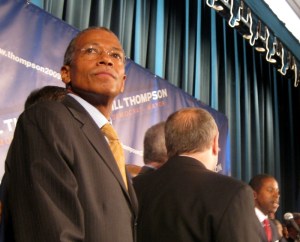 Robert Jackson has sent a letter to state education commissioner David Steiner urging him not to issue the waiver that would permit the appointment of Cathie Black as chancellor.
"Cathie Black meets none of the professional experience requirements, apparently satisfying only the undergraduate graduation standards," Jackson writes. "Ms. Black's marketing expertise and personality may have made her a superlative corporate leader for the publishing industry but I do not see evidence of experience in education that a Chancellor needs to guide our nation's largest and most complex school system."
Jackson coming out against Black is significant. Although Steiner will have final say, the more public pressure brought on him to reject the waiver the less likely he is to grant the waiver. And Jackson is not only the chair of the Council's Education Committee, he also chairs the Black, Latino and Asian Caucus. Insiders say that since the New York City school system is overwhelmingly minority, sustained pressure from black, Latino and Asian lawmakers could be enough to sway Steiner.
In the letter, Jackson gets in a few digs at Bloomberg, noting that when the mayor appointed Ray Kelly as NYPD commissioner, he emphasized Kelly's experience as a law enforcement professional. And when he appointed Salvatore Cassano as head of the Fire Department, Bloomberg stressed the significance of Cassano's 40 years with the agency.
"With nothing less than the future of our children at stake, the Mayor suddenly seems to be saying that experience is no longer important," Jackson writes.