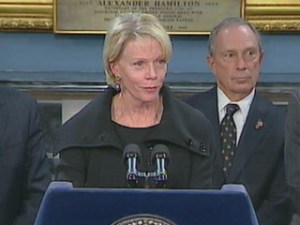 Brooklyn council member Jumaane Williams told The Politicker that he will introduce a resolution into the City Council calling on the Board of Regents to deny Cathie Black a waiver to become chancellor of the New York City public school system.
According to state law, all school superintendents must have at least three years of teaching experience and have done graduate work in school administration. But the law allows for waivers for "exceptionally qualified persons" whose "exceptional training and experience are the substantial equivalent" of teaching certification.
"I think the mayor showed utter disregard and utter contempt for what parents, teachers, and leaders have been saying for the past three years," Williams said. "No education experience was one of the problems we had with [current schools chancellor Joel] Klein."
"She is not from the city, she hasn't worked with any unions, her kids went to private school, she went to parochial school," he added. "It's like the mayor didn't even try."
Williams' resolution would not be binding. Ultimately, it is the Board of Regents who will decide if Black is to be granted a waiver. But the Regents are appointed by the legislature, who could exert pressure on them to deny Black a waiver.
It is unclear how much support Williams' resolution will have in the City Council, although several council members I have spoken with have expressed skepticism about Bloomberg's choice for Klein's replacement.
Said one, "Waivers are for special circumstances. It's one thing to grant a waiver to someone who seems uniquely qualified for the job? Why break the law and change the law just because the mayor picked someone?"
dfreedlander@observer.com