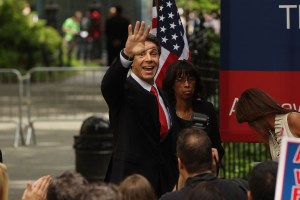 Andrew Cuomo named his transition team and a committee of economic advisers today, and the announcement looks like a direct shot at two of his biggest critics: Eliot Spitzer and Al Sharpton.
The Council of Economic and Fiscal Advisers includes Jim Chanos, a wealthy hedge funder and former financial backer of Spitzer who had a relationship with Ashley Dupre, the prostitute who brought down Spitzer. According to The New York Post, Dupre referred to Chanos as "Uncle Jim."
Also serving as an economic adviser to Cuomo is Ken Langone, the founder of Home Depot and former NYSE director who Spitzer sued for enabling former NYSE chairman Dick Grasso's $187 million pay package. Spitzer allegedly cursed out Langone at a black tie dinner, telling him that he wanted to "drive a stake" through Langone's heart. Langone has said of Spitzer, "We all have our own private hells. I hope his private hell is hotter than anyone else's."
And the transition team is headed by Congresswoman Nydia Velazquez and former comptroller Carl McCall. Reverend Sharpton had accused Cuomo of not having enough minorities on his transition team, which led Cuomo to shoot back that Sharpton was talking out of turn since the governor-elect had not named anybody to his team yet.
Velazquez was the first Puerto Rican elected to Congress. McCall had a chance to become the first African-American governor of New York in 2002, until his campaign was derailed, in part, by Andrew Cuomo.