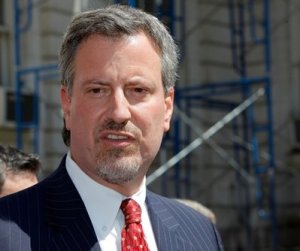 Bill de Blasio is headed to the Waldorf Astoria next month for a high-dollar fundraiser, a clear sign that his ambitions lay beyond the public advocate's office.
The host committee for the event features a lot of names recognizable to political watchers, and shows what kind of coalition de Blasio would be able to pull together if he runs for higher office.
Included on the invitation is Reshma Saujani, the former congressional challenger to Carolyn Maloney; her former consultant and current Alec Baldwin spokesman Matt Hiltzik; former council speaker Peter Vallone, Sr.; Rudy cousin Catherine Giuliani; Ravi Batra, who used to be disgraced Kings County boss Clarence Norman's attorney; PR specialist Ken Sunshine; and ex-Clinton aide Harold Ickes.
There are also a number of union officials and lobbyists on the list.
Tickets for the event range from $500-$10,000.
Full invite below:
On Monday, December 13th, we will host a fundraising reception in support of NYC Public Advocate Bill de Blasio at the Waldorf Astoria from 6:00pm to 8:00pm.

We would be grateful if you would be willing to lend your name to our event invitation and sign up for one of the following host committee levels: $10,000 Co-Chair, $5000 Vice-Chair, $2500 Sponsor or $1000 Host Committee. Individual tickets for the event start at $500. Please see below for more details.


As always, we truly appreciate your support, and Bill looks forward to seeing you on December 13th.


a cocktail reception in support of

New York City Public Advocate

Paul Adler

• Gina Argento • Tony Argento • Barry Berke • Sid Davidoff

Jon Del Giorno • Vivian & Joseph Douek • Gabrielle Fialkoff • Abe Friedman

Nicholas Gravante, Jr. • Elly Kleinman • Allison Lee • Tondra & Jeffrey Lynford

Rachel McPherson & W. Patrick McMullan • Elizabeth Sackler

Bruce W. Both •

Kuba Brown

•

John Calvelli • James Claffey, Jr. • Fidel Del Valle

Janice Enright • Matt Hiltzik • Daniel Holt • Harold Ickes •

Marianna Koval

Joan & Mark Peters • Pat Purcell

Marc Agger • Sean Andrews • Peter Aschkenasy • John Banks Christopher Barley & Jonathan Sheffer • Ravi Batra • Chris Carr

Henry Christensen

•

Bunny Ellerin & Geoffrey Vincent • Carmen Farina • Al Garner • Catherine Giuliani Nancy Hollander & Ken Sunshine

Edith Holzer • Jill Iscol • Nur Khan • Tom Kirdahy David Kramer • Mike McGuire • Lee Perlman • Yussi Rieder • Frances A. Resheske

Jonathan Rose • Jeffrey Sachs • Reshma Saujani • Arnie Segarra • Chris Serino Jo Anne Simon • Jeff Thamkittikasem

Robert Troeller • Peter Vallone, Sr.




—Event Committee in Formation—

Monday, December

13, 2010

For more information or to RSVP, please contact Rafi Jafri at