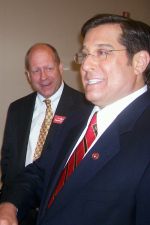 Bob Decheine, long time chief of staff to U.S. Rep. Steve Rothman, is out as the congressman's top lieutenant.
Decheine has been replaced in the post by Mark Cevasco, who previously served as a legislative aid for Rothman, a Democrat who repesents the 9th congressional district.
The circumstances behind the departure are unknown, but sources say it happened late last week and was a surprise to staffers who were notified yesterday. Reached by phone, Decheine said he had no comment.
Calls to Rothman press secretary Aaron Keyak were not immediately returned.