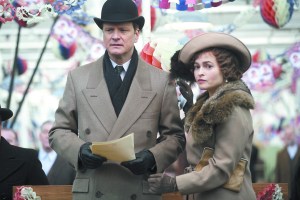 I firmly oppose the idea that art is competitive, and I deplore all back-slapping, self-congratulatory awards shows without exception, so predicting year-end prize winners a month early is usually to be avoided at all costs. But having said all of that, I remain passionate in my unalterable opinion as I declare The King's Speech the best film of 2010. Nothing of its greatness has preceded it, and nothing I have seen in what's to come in the next few weeks can equal its splendor and magnitude. Therefore, I see no reason how or why this will change. The King's Speech is a masterpiece.
This true story, impeccably directed by Tom Hooper (13 Emmys for TV's John Adams miniseries) from an exemplary, well-researched screenplay by David Seidler, is a history lesson with warm, heart-rending humor that centers on the quirky relationship between England's beloved King George VI (Colin Firth, in the performance of a lifetime) and his irreverent, unconventional Australian speech teacher, a failed Shakespearean actor named Lionel Logue (Geoffrey Rush). The film is a colossal triumph on so many levels that it's a challenge to know how to begin to describe it.
In a meticulous prologue, we are moved to empathize immediately with the predicament of England's "stammering prince" when his father, George V, asks him to deliver an inaugural broadcast in 1925 on a terrifying new invention called radio. The nation and the entire world holds its breath as the poor Duke of York steps reluctantly to the mike at the British Empire Exhibition in Wembley, and out comes a stuttering jumble of babble. By 1934, the mortified prince is at the mercy of an army of therapists who try vainly to cure his pathological speech impediment while he tries to speak with his mouth full of marbles. (Red with frustration and rage, Colin Firth gives a colorful, sympathetic performance that is nothing short of perfection.) Then, just when he's about to give up hope of a public life and retire in seclusion, an unorthodox and controversial upstart enters his life, bossing him around and enraging him further with the effrontery to call him by his nickname, "Bertie."
His daughters, two little princesses named Margaret and Elizabeth (the latter will succeed her father as Queen Elizabeth II) are amused but tolerant; the Duke's wife (Helena Bonham Carter, with the same build and body language as the future Queen Mum), meanwhile, tracks down Mr. Logue in the classifieds and drags the future king to a grim section of London, having him pose as "Mr. Johnson." It's hate at first sight, but by 1936, when his handsome, besotted older brother, Edward, the Duke of Windsor (Guy Pearce), after one year on the throne, scandalizes the royal family and abdicates the British throne to marry "the woman he loves," a twice-divorced American from Baltimore who was sent carnations by Adolf Hitler, Bertie is forced against his will to take over the duties by default and inherit a crown he doesn't want any more than his brother did. Faced with a leader who couldn't address the world, and a country on the verge of World War II, the British people are horrified, and Bertie has no choice but to bring back the estranged Lionel Logue he had unceremoniously fired. Some of the film's most interesting and amusing scenes show Logue's bizarre methods of treatment, forcing the king to lie on the floor and endure annoying exercises, strengthening his jaw and diaphragm muscles while speaking in riddles. While animosity builds slowly to planes of trust and even affection between two men who couldn't be more different, the movie also takes you behind the scenes of the palaces and country estates like Sandringham and Balmoral, in the same manner as The Queen. The royal family lives elegantly, but are not above a bit of poisonous royal gossip. At an awkward visit to a ball honoring the Duke of Windsor and Wallis Simpson, the Duchess snidely confides to Winston Churchill (Timothy Spall), "Apparently, she has certain skills, acquired in an establishment in Shanghai."
How it all turns out sets the template for a film of extraordinary humanity and spirit. The first time his two daughters address Bertie as "Your Majesty," the look of resignation, sadness and pity on Firth's face when he realizes he is the first monarch to succeed a living person who was a beloved romantic figure to his people is wrenching. Badgering and browbeating the new king, taking outrageous liberties and humiliating him by unceremoniously plopping himself down on his throne, Logue gives him the kick in the pants to carry on the torch, curing him in the process. Bertie pays back his new best friend by inviting him to the coronation and seating him in the royal box at Westminster Abbey. When the king declares war against Germany, it is Logue by his side, filling him with the courage, forcefulness and cajones to do it so triumphantly that the speech (we now know) makes history. The world listens to the radio and cheers, never knowing George VI is being egged on, in the pauses, to say the "F word" three times silently to himself for dramatic emphasis. The odd couple remain close friends until the king dies in 1952 at age 56.
It's an epic story, but the regal pomp and pageantry are never intrusive. Even with his inventive staging and surprising visuals, Director Hooper keeps everything as real and natural as breathing. The majestic cast is overwhelming: Claire Bloom as the king's mother, Queen Mary; Jennifer Ehle as Mrs. Logue, the surprised wife who is so shocked to find the King of England in her parlor that she doesn't know what else to do but invite him to stay for dinner; Derek Jacobi as the archbishop; Michael Gambon as King George V. Each contributes heft and ballast to a film rich in awards-season fertility. But it is still Colin Firth who, after a long and distinguished career, gets the role that should guide him to his long-deserved Oscar. As the actor of the year in the film of the year, I can't think of enough adjectives to praise him properly. The King's Speech has left me speechless.
rreed@observer.com
THE KING'S SPEECH
Running time 118 minutes
Written by David Seidler
Directed by Tom Hooper
Starring Colin Firth, Geoffrey Rush, Helena Bonham Carter

4/4