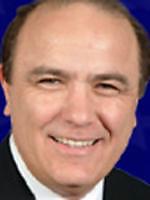 A fundraiser at the Brownstone in Paterson last night yielded handfuls of supporters intent on re-electing former Assembly Majority Leader Paul DiGaetano to public office, this time to the state senate.
"I think Sarlo has been a soldier of McGreevy and Corzine, who never controlled spending," the prospective GOP challenger said of state Sen. Paul Sarlo (D-Wood-Ridge), chair of the budget committee, who is poised to defend his 36th District seat next year.
"I don't know how much money we raised, we raised a little bit of money," added the former 2005 candidate for governor. "We discounted the price for committee members, and it was a good start."
DiGaetano sources said the room held 50 people. Sarlo sources laughed off the event as a flop with 30 people, and no GOP officials from Nutley among them. A second Republican source confirmed the turnout number at 30.
A 2009 gubernatorial supporter of movement conservative Steve Lonegan, DiGaetano has since substantially reevaluated his opinion of Lonegan's conqueror, Gov. Chris Christie.
"I think he's doing a great job, and he's exceeded my expectations," DiGaetano said of Christie.
The former assemblyman's positive assessment of Christie does not include the Republican Party chairmen in two-thirds of the district: state Sen. Kevin O'Toole (R-Cedar Grove), GOP chair of Essex; and Assemblyman Scott Rumana (R-Wayne), chair of Passaic, a pair of old political foes.
"I don't think either Essex or Passaic is likely to give me the line," DiGaetano said. "I don't have a good relationship with either of them. Bergen is a different story. I'm confident in my ability to win the line in Bergen."
But sources close to O'Toole and Rumana said their personal and parochial guerilla wars with DiGaetano won't prevent Christie from exerting a strong presence in the district. If DiGaetano entrenches as the toughest Republican prospect to defeat Sarlo, look for O'Toole and Rumana to back him.