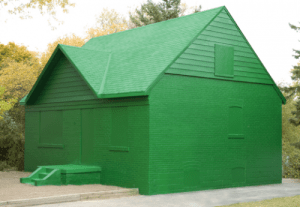 Sensible people flee when someone pulls out a Monopoly board. Then there are the kids who snap up properties, send their friends and loved ones to jail, and end up with a pile of cash at the end.
We can only assume they grow up to be real estate developers.
Earlier this year, a bright-green, life-sized Monopoly house popped up in Willowdale, a suburb of Toronto, Canada. Given that there were a record number of foreclosures in September, needless to say the art exhibit by Canadian artist An Te Liu is stirring up controversy.
"A house is a home," Mr. Liu told The Observer. "It's got its own stability as a place of shelter and a place to live and a place to grow up and a place to mow your lawn." But, he continued, "A house is also a piece of collateral and its got a monetary reality as well."
Consumers spend their hard-earned cash like it's Monopoly money and banks play with people's houses like they're toys. Now that's some smart art.
Mr. Liu's piece is part of a larger exhibition by Canadian artists on the site of a housing complex that was built for returning World War II vets. The houses had been sold to a developer who wants to turn them into "monster houses," as Mr. Liu deems them. The curator gave Mr. Liu one of them, which he stripped down and painted green, until it became "a life-sized miniature," as the artist elegantly puts it.
The iconic Monopoly house has undergone a few renos over the year, but Mr. Liu matched the style and paint color to the board game from the 80s–incidentally, the last time real estate went from boom to bust. "The project is about real estate and development and the history of this house and its present fate to be demolished and rebuilt into townhouses," Mr. Liu said. "A house is not only a home that we live in, but it's a piece of legal jurisdiction and tradeable asset as well."
In the best twist of all, thanks to the publicity generated by the exhibit, the developer flipped the property and made a profit.
lkusisto@observer.com