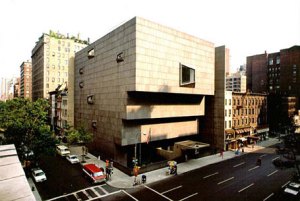 When the news broke last month that the Whitney Museum had sold an octet of brownstones next to its Marcel Breuer home on the Upper West Side, it intensified rumors that the institution planned to someday fully abandon the neighborhood for the new museum it is building next to the High Line. Now that the museum is moving its administrative offices, once located in the townhouses, to 300 Park Avenue South, perhaps Breuer has been given a reprieve.
Observer alum Dana Rubinstein broke the news of the move in the Journal today, reporting that the museum will take the top two floors of the 15-story, 100-year-old tower–which Rockrose nearly turned into housing until the recession hit and the company decided to keep the building as is–for a total lease of 27,000 square feet.
The location makes sense for the Whitney to reach both the existing museum and the new development, says Jason Greenstein, a broker from Newmark Knight Frank, which represented the museum. "The 6 train is right at the base of the building, so there's easy accessibility there to the Upper East Side, and it's a short ride or walk to the Meatpacking District," he says.
So this is a good sign, then, that the Whit can continue to operate between the two museums, admittedly an unusual and even difficult arrangement: After all, is the new Renzo Piano-designed museum, which has twice the exhibition space of its 32,000-square-foot sibling, the anchor of the Whitney empire, or the satellite? Certainly no other museum in the city has similar arrangements. The Guggenheim nearly did, but this sort of tension is part of the reason it never came to fruition. The Smithsonian and the Tate come to mind, but the collections of their various museums are far more varied than the Whitney's narrow focus on American art.
Yet it looks like if the Breuer can hold on, it will be in a subordinate position, as the new office space is only temporary, a holdover until the new High Line museum is completed in 2015, at which time administrators are expected to move in. That could make for quite the commute up to the Breuer building, especially as uptown continues to cede its status to downtown. Even though some Whitney backers insist the original stay open, how long could the institution afford to do both. 
Hopefully, the museum will stick with both long enough to at least give Breuer a shot. Maybe both will even flourish, tailored to different audiences for different neighborhoods or tastes. After all, if the museum outgrew Breuer, how long before the same thing happens on the High Line? Wouldn't it be smart to have some back-up space for the future.