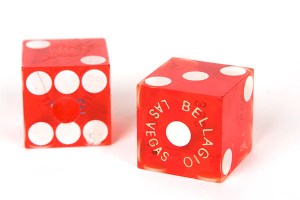 The Observer stopped by Nora Ephron's guest apartment earlier this month–that's right, she owns two units several floors apart in the same Upper East Side building, and still she can't stop complaining–where we disccussed her latest book, the new Huffington Post divorce vertical she's working on and her surprising tech savvy.
Now, in an apparent effort to one-up us, The Times Magazine has stopped by Ephron's apartment proper for a tour. There, she points out a few of her favorite things, such as Julie & Julia embossed knives, a poster from a Japanese play version of When Harry Met Sally and a teacup collection. ("They are too gorgeous to be used, and they hold barely any tea, I'd like to add. So they are just in a little cupboard, and it is very sad. ") Also discussed? Ephron's deadly fear of bike messengers.
Yet what had The Observer worried more than rampaging stiffs on two wheels was the pair of dice Ephron carries with her at all times. Let's let her explain:
Hobby: I play craps. About 900 years ago, when I was a columnist at Esquire, they had a sales conference in Paradise Island, the Bahamas, and someone taught me. It is such a great game. I will teach almost anyone how to play craps at a moment's notice.

Always With Her: I almost always have dice in my purse.

[…]

Next Big Purchase: I am thinking about going to Istanbul, because I haven't been.
Favorite Vacation Spot: I like Las Vegas.
Maybe this explains Ephron's third husband, Nicholas Pileggi, who wrote Casino, among other films. Then again, that movie premiered eight years after the couple married. Was she the secret muse for Ace Rothstein, the inspiration for Ginger? To think all this time we had no idea.