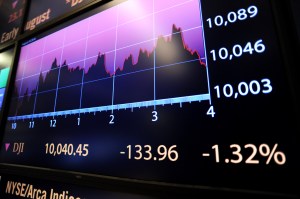 Dear Diary,
Sometimes, if you have enough good days in a row, you just know you're going to have a dull one eventually. Today was the dull one.
I got pretty manic these past few weeks, rocketing higher thanks to the Fed's quantitative easing announcement last week and the mere fact that the economy didn't seem to be getting worse at an astronomical clip. So it's not a major surprise that today I'm taking a little bit of a breather. It's a loss, but I think some people might refer to it more euphemistically as a "pullback." In any case, I took a little 37-point spill, nothing I can't shake off.
Even though I'm basically confident going forward, there was some indication that not all is hunky dory in the world of finance. The price of gold set another record today, showing that investors are worried about serious inflation and other market disruptions. Plus, tensions are rising over currency exchange rates. The global community isn't necessarily as excited as I am about the Fed's decision to pump the system full of monetary stimulus.
Well, I don't have a lot else to say. I'm just kind of rolling with the punches on this one.
See you tomorrow,
The Dow Jones Industrial Average