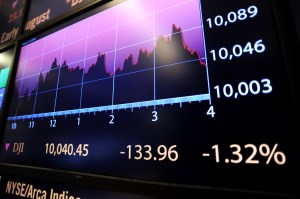 Dear Diary,
First of all, sorry I couldn't write yesterday. I came down with something and just couldn't bring myself to write. Quick recap: I lost 16 points; the retail sector performed pretty well; concerns about Ireland's sovereign debt crisis held me back; consumer prices rose fractionally but not an encouraging amount.
Okay, that doesn't completely bring us up to speed but I'm glossing over yesterday because today I CRUSHED IT! I added 173 points like it wasn't any big deal, rising fast in the morning and staying extremely positive throughout the day.
First of all, I'd like to congratulate General Motors, an old friend of mine that had lost its way. It's great to see that the company's initial public offering has gone well, as the stock closed with a gain on its first day back on the New York Stock Exchange.
Plus, Ireland is going to get a big loan from the European Union and the IMF. The move should restore some confidence in Ireland's financial situation — a major overhand in the global markets.
And then on the economic data front, weekly jobless claims figures showed that fewer workers are filing for unemployment benefits — a potential sign our stagnant job market is improving. Add in a decent November business outlook from the Philadelphia Federal Reserve, and we have ourselves a blockbuster day!
It's almost as though Tuesday's triple-digit nosedive never happened.
See you tomorrow,
The Dow Jones Industrial Average