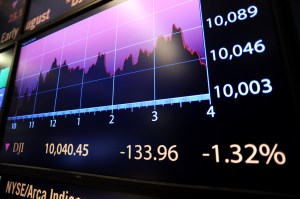 Dear Diary,
Today I logged a dinky nine-point gain. I was feeling more enthusiastic earlier in the day thanks to some solid October retail sales numbers from the Department of Commerce. It's just hard for me to sustain any momentum these days, what with Irish and Portuguese sovereign debt continuing to rip into Europe's economic prospects. And then back home, a bunch of prominent pundits are just out-and-out ripping into the Federal Reserve's quantitative easing regime. Time and again I've clamored for lowered interest rates in hopes of preventing a double-dip recession, but now it's very unclear whether Ben Bernanke's latest move is going to help anything at all.
Even these cute bears are angry about quantitative easing. When cute bears are angry, it's hard for me to stay optimistic.
Not to say today was boring — every day is a pretty gripping dance between total fear that the economy will crumble tomorrow and frenzied enthusiasm about a potential bounce back.
See you tomorrow,
The Dow Jones Industrial Average