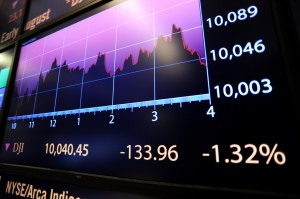 Dear Diary,
It's probably fitting that I ended a lackluster November with a lackluster showing today. I lost 46 points today — not too brutal, to be honest, but a loss nonetheless. For the month, I gave back 1 percent. That kinda stings.
Bank of America took a pounding, worse than any of my other stocks. The banking giant lost 3.2 percent today. It's still tangled up in the foreclosure mess, and now some guy named Julian Assange is saying he's going to turn a giant bank inside out early next year with some website called Wikileaks. Rumor is the victim could be BofA. I have to say in response: Cut the bank a break. It's lost 27 percent of its value, for crying out loud! The last thing it needs is a digital cyberbomb blowing it to pieces. Here's hoping this Wikileaks thing steers clear of my banks. I've got enough to worry about.
For instance, European bonds are showing investors aren't exactly excited about the prospects of debt-laden countries, and the fear is spreading to nations that were previously considered safe. Solutions are scarce, and frankly I'm just hoping to sidestep the worst effects.
So yeah, all that stuff was a drag, but there were a few positive signs out there today as well. The Chicago purchasing managers' index showed improvement in the region's manufacturing for November, consumer confidence is up, and Cyber Monday was basically a hit. Maybe I can catch a bump to the upside tomorrow.
We'll see,
The Dow Jones Industrial Average