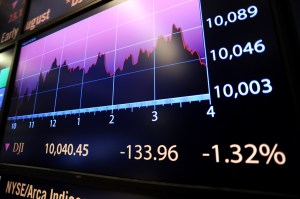 Dear Diary,
Lost 60 points today. Drag. It seems as though investors are looking at commodities a lot more than blue-chip stocks.
There really isn't a lot to talk about. Basically everything is jumbled up because I'm not really sure what's going to happen as a result of the Federal Reserve's quantitative easing measures. Maybe inflation will go nuts, in which case it'll be good to have bought gold.
Part of the problem is Bank of America, which sold some of its stake in BlackRock today, a move that brings it closer to meeting capital requirements. BofA and JPMorgan Chase also announced that they didn't have a single day of trading losses in the third quarter, but even that cheery news wasn't enough to lift the stocks. Shares of Bank of America lost 2.6 percent, and JPMorgan Chase dropped 1.5 percent.
It shouldn't be that surprising that I'm not super effusive. Maybe I'll have more to report tomorrow.
Take care,
The Dow Jones Industrial Average