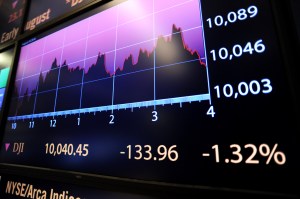 Dear Diary,
A 151-point gain sure is a good way to head into Thanksgiving. Like just about all of America, I'll be on pause tomorrow for Turkey Day, then back in operation for only half of Friday.
I had one of those days where everything should have been bad. The FBI is cracking down on insider trading, setting a tone of anxiety over the financial-services sector writ large. Even though that's always in the back of my mind, the broader economy looks to be gathering a tiny bit of momentum.
Personal income and spending are up for October, and weekly unemployment claims hit their lowest levels since July of 2008! In November consumer sentiment hit a five-month high, according to a University of Michigan survey.
Other things weren't so good, but I'll take what I can get.
Anyway, gotta hop a train up to Westchester and make pies and cranberry sauce.
Happy holidays,
The Dow Jones Industrial Average