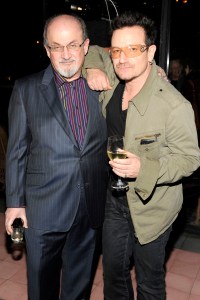 Salman Rushdie has the most bonkers friend group of any author in New York. At his book party on Monday night at the Bowery Hotel, there was a Bono for every Orhan Pamuk, and an Isabella Rossellini for every Phillip Glass.
According to the flap copy–sorry, Mr. Rushdie, it's on our nightstand!–the Booker Prize winner's new novel tells the story of a boy named Luka, whose father falls into a mysterious coma. To save him–to wake him up, that is–Luka must travel to a place called "the Magic World" and steal a thing called the "Fire of Life." Luka and the Fire of Life is a follow-up of sorts to 1991's Haroun & the Sea of Stories. To any critics who read the book and end up not liking it, here are some jokes you can use in your reviews: "Snore!" "What a snoozefest." "Zzzzzzzzz." But know that it actually sounded like a lot of fun when Mr. Rushdie read a bit of it out loud at the party.
The plot of the book did get people talking about sleep. "Do you use any stimulants to keep you awake?" Bono asked Mr. Rushdie, after the author described the stressful-sounding sleep schedule he adopts whenever he's finishing a book.
"You get into a moment where you're just working very, very long stretches," Mr. Rushdie said. "It stops mattering whether it's the day or night. You work for 15 hours and then you're exhausted, and you sleep for a bit, two hours maximum, and it doesn't matter what time it is. And then you get up and you work some more."
As far as stimulants go, Mr. Rushdie said he does not partake of anything stronger than coffee.
Bono was dressed in dark jeans, a black V-neck and a military-style jacket. Like most of the other guests at the party, he was wearing his trademark glasses. He told The Observer that sometimes he falls asleep without meaning to, "even in the most extraordinary circumstances." He once did it at a Sonic Youth show–he was hanging out with the guys running the lights and suddenly just passed out on the control board. "This is one of my favorite bands!" he said. "They were really brilliant, as well, but it was just, the sound they made was so loud! It was like a blanket, and I just wrapped myself in it."
Jeffrey Eugenides was chatting with Orhan Pamuk. "There's a theory that Cro-Magnon man, before there was any electric light, could sleep a long time, and that some of the dreams that you get after the long sleep are actually close to a kind of religious reverie," Mr. Eugenides said. "So sometimes I try to sleep a very long time to get in a sort of antiquated religious state."
Mr. Pamuk could not identify with this. "I like sleeping, but I'm such a nervous person, thinking of so many things, that I cannot," he said. "I wake up in the middle of the night, worrying about this or that. Some of them are maybe not real problems, but that's how I am. The world is full of bad people, you know? They make you worry."
MOBY SEEMED TO be in a really good mood in the minutes before the band he's in now with Laura Dawn, the creative director of MoveOn.org, performed a few songs in Mr. Rushdie's honor. He looked sharp in a dark suit with a white pocket square.
"I rarely if ever get more than four hours of uninterrupted sleep," Moby said. "I was never a good sleeper, even when I was an infant. The longest I ever slept for was one time when I had a terrible flu in Romania. I was on tour and I got to my hotel at 9 o'clock in the morning, had this terrible flu, slept for about 13 hours, then woke up with a 103-degree fever but had to play my show because the promoter was in the mafia.
"I've never had a good night's sleep in bed with another person." he said. "Never once in my entire life. I just lie there awake. Sometimes I get up and I sleep on the couch. As long as people don't take it personally, it's O.K. But it's not so endearing to say to someone, 'Oh, this happens with everybody.'"
So is Salman Rushdie kind of the Moby of literature? The Observer asked Moby's assistant, Joe, and he said yes, pretty much. "I think that's a decent comparison," the 28-year-old said.
"He's such an international figure, and an international face of modern literature. I think his persona goes beyond his literature in a funny kind of way. And I think that's also true of Moby and his music."
By 11 p.m. the Bowery Hotel had just about emptied out. Everyone was going home to go to bed!