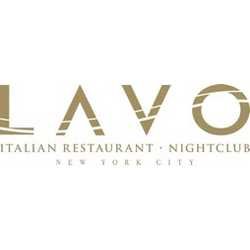 Q: What happens when the Sam Sifton, food critic for The New York Times, takes on Lavo, a Las Vegas nightclub-cum-restaurant plunked in the middle of Midtown?
A: We get sentences like this!
Take your girl down and get some vodka on. Your boys as well.
Well then! Lavo is the newly opened, big-plattered, glitz-heavy sister eatery to Tao. "You know Tao, Buddhaman," reads a real sentence in this story. "It's where Kim Kardashian had her 30th birthday party." So Lavo is that kind of place — the kind of place where power-suits bring done-up petite girls to gawk at the opulent, McNally-on-steroids space. How, then, do you review such a spectacle?
The whole brouhaha inspired Sifton to get epistolary with his Times piece. He framed the review by opening with a concerned question from a 6'3″, 220-pound bro who just wants to take his smoking-hot girl — and his six boys, of course — to dinner. Is that too much to ask?
"We've been to something like 10 restaurants now, and I think her favorite foods are truffle fries and ketchup," the composite bro confessed to Sifton. "But she drinks Champagne. So maybe bottle service?"
It turns out this guy is in luck! Lavo, Sifton replied to the bro, is that Shangri-La that beefy hedge-funders heretofore only imagined — the place where they take their girls in the sports-addled, Kobe-craving annals of their minds.
But on the off-chance the date's a dud? There's a club below the restaurant where he can knock back Jager with his boys. Naturally, this club is also called Lavo.