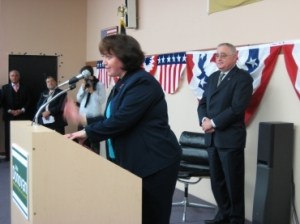 Todd Caliguire was the political thorn in Kathe Donovan's side for a few years; now he's heading up the transition team for Donovan's freeholder compatriots.
The first question many observers are asking is this: Since when does a freeholder board have a transition team, usually reserved for executive offices that require strategizing, staffing, and large-scale planning?
"I don't know how it's been done in the past," said Bergen's GOP chairman Bob Yudin, who orchestrated the freeholder campaign. Is it a first? "That I know of, yes."
The GOP will enjoy a 5-2 majority on the board with current Republican freeholders Rob Hermansen and John Driscoll joining forces with newcomers Maura DeNicola, John Felice, and John Mitchell.
DeNicola, Felice, and Mitchell are looking to Caliguire, a two-term freeholder and former aide to Gov. Tom Kean, and others for a crash course in county government before sitting down to take their seats in January.
Their campaign was separate and distinct from Donovan's; now the two sides seem to be continuing the divide, unlike other ruling party executive-legislative pairings.
Caliguire beat out Donovan in a heated primary contest in 2006, with Caliguire getting the backing of the BCRO.
He eventually lost to outgoing County Executive Dennis McNerney, with Yudin also tanking as part of a GOP freeholder ticket that had no coattails to hold onto.
This year, Donovan brought her whole ticket with her and, surprisingly to many, sheriff-elect Michael Saudino.
Donovan's transition team is headed by her campaign advisor Alan Marcus, who will not be taking a job in her administration.
Their goal, according to Marcus, is "putting Kathe in a position to begin governing on Jan. 1."
"It's just, how do you get there," he said.
The focus right now, he said, is policy, before staffing and the like.
Yudin is also on County Executive-elect Kathe Donovan's transition team, alongside other notables like state Senator Kevin O'Toole (R-Cedar Grove), Ocean County GOP chairman George Gilmore, and Ray Pocino, vice president and regional manager of the Laborers' International Union of North American.
One source said the selections of O'Toole, of Essex County, over state Sen. Gerry Cardinale (R-Demarest), of Bergen County, and Gilmore over, well, someone not from Ocean County rubbed the more conservative sects in the Bergen Republican party the wrong way.
The second rumor, which Marcus would not confirm, is that Donovan recommended former county chairman Rob Ortiz for her replacement as county clerk.
Ortiz battled Yudin over the chairmanship in 2008, after assuming the role when former GOP boss Guy Talarico resigned following Caliguire's primary loss to O'Toole.
Talarico's resignation came on the heals of a racially-charged flyer wrongfully accusing O'Toole of supporting affirmative action based on minority-protecting redistricting decisions.
So bad blood between Donovan-Marcus-O'Toole-Ortiz and Yudin-Caliguire-Cardinale-Talarico is documented.
But Yudin said it's all over with. "Todd has made it clear to me that he supports Kathe," he said, and unequivocally pronounces this a new paradigm.
"That's all water over the dam," Yudin said.
As far as Ortiz being recommended as the clerk replacement – Gov. Chris Christie will make the appointment – Yudin said that wouldn't bother him.
"Rob Ortiz and I talk often," he said. "I have no problem if that is who the governor selects. The convention's in March; that's our candidate in November."
"It's the governor's decision. I certainly accept whatever the governor decides," he said. "I have made a recommendation to the governor."
Yudin wouldn't say who he recommended, but a source believes it's Jamie Sheehan-Willis, daughter of the late James Sheehan, former GOP freeholder and county chairman.
Marcus said Donovan has made no recommendation to the governor for a replacement and doesn't see that happening.
And the Caliguire move doesn't have any effect on Team Donovan, Marcus said.
"No relevance," he said. "We have nothing to do with the (freeholder) transition. I've got enough on my plate."
He said the transition team for the executive-elect isn't comparing notes or streamlining policy with the freeholders-elect.
"We're no where near that point," Marcus said.
And the freeholders-elect are operating in transition without Hermansen and Driscoll, although Yudin said they weren't being excluded in any sense.
Hermansen – with Driscoll the elder statesmen of the GOP freeholders with one year under their belts – has been an ardent Donovan supporter and heard early post-election rumblings about becoming the new majority's chairman.
But that doesn't seem to be the case now, as the political maneuverings have already begun. An agreement has been made on the new board chairperson, assumedly Driscoll, but no one is talking yet.
Hermansen said that either he or Driscoll should get the chair, and the other should be vice chair.