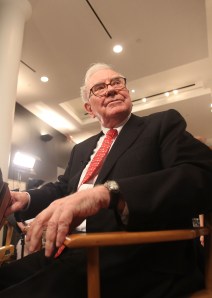 The Federal Reserve would prefer that Goldman Sachs continue paying $15 per second to Warren Buffett rather than tap its capital to repay the Nebraskan billionaire, according to The Wall Street Journal.
Goldman had previously expressed interest in repaying a $5 billion credit-crisis loan from Buffett, but it now looks as though the Fed is going to drag its feet in cutting the Wall Street titan loose from Buffett:
The Fed must approve the transaction because it is Goldman's banking supervisor. Goldman officials hoped to win clearance quickly, but the request has been caught up in the wider process of setting a dividend-increase policy for all U.S. banks overseen by the Fed, said people familiar with the matter.
The Fed is attempting to iron out the appropriate time frame for allowing banks to raise their dividends and assume greater control over what they do with their capital. On Friday, Fed Governor Daniel Tarullo said that he's not quite ready, because the financial system is still in something of a precarious position: "We have been concerned with the safety and soundness implications of resuming or increasing capital distributions in the absence of a strong, forward-looking demonstration that the capital position of a firm would be protected even under stressed conditions."
Until Goldman and other banks persuade the Fed that it can withstand another shock, the Wall Street giant is going to keep flooding Buffett's pockets with money.
mtaylor [at] observer.com | @mbrookstaylor