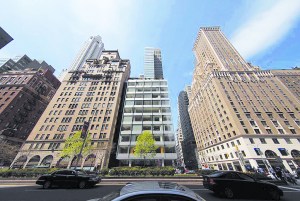 500 Park Avenue
Eighties retro never looked so fine. A small financial services firm will take 19,684 square feet at elegant 500 Park Avenue.
Solar Capital has been around for a few years, but it's a newly minted public company. The company has been subleasing on the fifth floor of the building, but now it will get some permanent digs to go with its shiny S.E.C. number.
"It's a boutique building on Park Avenue, with a very intimate feel," Frank Doyle of Jones Lang LaSalle, who represented the tenant, told The Commercial Observer. "It's a very desirable hedge fund location."
Because the tenant was already there, "they appreciated the beauty of the building," said Mr. Doyle. Solar will occupy the full third floor for 10 years.
The building, which was erected in 1960 with a tower added in the 1980s, is one of the few restrained additions to the city from the decade that also brought us the AT&T Building and the Trump Tower. Hedge funds also exploded on the financial scene in the middle of the neon decade, though with even less restraint.
Even though these small financial services companies have been imperiled lately, 500 Park has been thriving. It's almost full, with only one 8,100-square-foot space still available in the 203,000-square-foot building.
Asking rents in the building are in the low-$50s per square foot, according to the landlord rep.
Along with Mr. Doyle, David Kleiner and Alexis Tener, all of Jones Lang LaSalle represented the landlord, PPF OFF 500 Park Avenue LLC, an affiliate of Morgan Stanley. The tenant was represented by Jim Coleman and Steven Kaufman with Hanley Advisors.