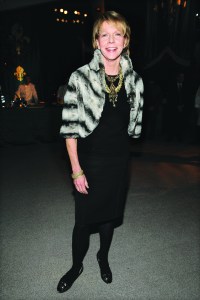 Mayor Michael Bloomberg keeps a countdown clock on the wall in the City Hall bullpen. Whenever asked about his future plans–which is often, especially now that the Bloomberg for President rumor mill is churning–the mayor will reference the clock and say something to the effect of, "There are 1,141 days left in my administration and I intend to use every single one of them."
The final days are looming larger in the mayor's mind say some of his associates. The public approved an unbreakable two-term-limit law in this month's election, and come 2013, Mr. Bloomberg will be forced to leave City Hall.
But he probably won't go far.
A few months ago, friends and colleagues of Mr. Bloomberg say they started to hear him mulling who his sucessor may be. Most politicians want to preserve their legacy and ensure their agenda continues into the future.
Enter Cathie Black.
When the mayor named the Hearst Magazine chairwoman as schools chancellor, the political world was stunned. She belonged to the city's Park Avenue elite, had shown no previous interest in public service and her only relevant experience was running an international media empire.
A lot, in other words, like Mike Bloomberg in 2001, when he campaigned for City Hall. "It all just makes too much sense," said one city pol close to the mayor. "If you only have to be a manager to run the schools, then you only have to be a manager to run the city. If she does even a reasonably good job, I think you will see them talk her up for mayor in 2013."
That of course remains a big if. Ms. Black is taking over a school system with a $23 billion budget, 1.1 million schoolchildren and about twice that many angry parents. She has little time to make an impact.
But in this media-saturated age, Ms. Black may not need much of a record. The schools chief is perhaps the most high-profile administration job. And the sunny and attractive Ms. Black is almost certain to be a superior communicator to the aggressively reticent Joel Klein, who aggravated parents less for what he did than for his failure to explain why. "I can't imagine a better spot," said one city councilman. "You will have a huge platform on the news, everyone loves education, she will be out there hugging kids and talking to parents. If you put in there a good person who has spunk and is tough and knows the system and knows the players and can have fun, and can hang on for three years, it's the perfect proving ground to run for mayor."
Ms. Black is a registered Republican, as Mr. Bloomberg was when he first ran for office. But like the mayor, she has donated to candidates across the political spectrum, including Bloomberg allies John McCain and Hillary Clinton. Her husband is a regular donor to Republican politicians and causes, giving Ms. Black a wide network of supporters should she decide to run.
The possibility of another Bloomberg type in office excites the city's elite. "International business needs a great world city as its platform. We are not talking disinterested parties here," said Kathryn Wylde, president and CEO of the Partnership for New York City. "They are afraid someone less capable than Mike Bloomberg will come in and blow it."
Added Ms. Wylde: "The candidates in the Democratic primary will be competing for marginal political constituencies that usually have an agenda contrary to the economic interests of the city. [Business doesn't] want someone who is going to cave to their own narrow political interests."
Before Ms. Black, there were others floated as Bloomberg successors. For a while it was Council Speaker Christine Quinn. But as soon as Mr. Bloomberg decided to run for a third term, he cast himself as the only person who could lead the city through tough economic times, an implicit rebuke to his closest legislative ally. John Catsimatidis, the wealthy owner of the Gristedes supermarket chain, had tried to paint himself as Bloomberg II, but he failed to catch on.
"I think [Bloomberg] will want someone who will carry on what he has done," said one former Bloomberg administration official. "It will be someone with private-sector experience. Do they have to have government experience? Maybe. But they can't be a career bureaucrat, someone in bed with the unions."
Now, if Ms. Black falters–at this point even her appointment to chancellor is uncertain–a number of other candidates are already starting to bubble up. Police Commissioner Ray Kelly's name was bandied about, but it is unclear if Mr. Kelly can really stomach the glad-handing of politics. Mr. Klein, too, was mentioned as a possibility in 2007-2008, but his new job with Rupert Murdoch's empire isn't likely to endear him to New Yorkers. Harold Ford could make a go of it, but would have trouble convincing Democratic primary voters. Politicos say the buzz around Loews Hotel CEO Jonathan Tisch has died down. Meanwhile, Bloomberg companion Diana Taylor has shown interest, but the mayor would be prohibited from bankrolling her campaign unless the two marry.
Regardless of who emerges, it is certain that Bloomberg and his allies–the Murdochs, Zuckermans and Rudins of the world– won't relinquish their hold on City Hall without a fight.
"I think the [city's elites] are looking for someone who is going to be the savior from all of these crazy left-wing politicians," said one pol. "The elites have kind of gotten use to having one of their own in there."
dfreedlander@observer.com