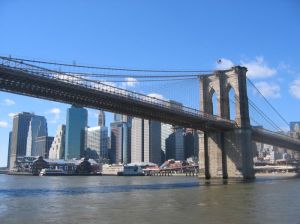 The first teaser ads are out for the US premiere of X Factor, former American Idol judge Simon Cowell's own singing competition production. X Factor, which has enjoyed high ratings in the UK since its 2004 debut, will air on Fox, still home to Idol.
The Hulu-proliferating CGI teasers show the Brooklyn Bridge morphed into the titular "X"–trippy, but uninformative. A helpful British person explained that X Factor does not use audience voting to decide, includes older contestants, and has judges that mentor competitors. X Factor won't be on the American air for another ten months, so why the early hype-mongering?
Perhaps to stoke an old rivalry: Idol defector and Cowell adversary Paula Abdul's Live to Dance (also based on a British series, Got To Dance) launches in January on CBS and will go head-to-head with Idol for the first Cowell-free season of American television in almost a decade.
Hope this keeps Cowell in your hearts and minds, America!