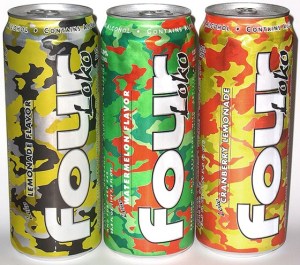 Though a single Four Loko may contain the equivalent of five beers, it's not necessarily the alcohol that's earned the beverage its notoriety. It's the heart-palpitating portions of caffeine, taurine and guarana — potent elixers that the founders announced will no longer be mixed into the beverage.
Phusion Projects, the drink's parent company and distributor, bowed to pressure from health officials nationwide, who insisted that the concoction was dangerous and even deadly when consumed in mass amounts.
In a statement, the three founders and managing partners of Phusion Projects maintained that the product was safe, and seemed genuinely shocked that officials became so fixated on their product when countless other booze-and-caffeine fusions exist without scrutiny.
"We have repeatedly contended — and still believe, as do many people throughout the country — that the combination of alcohol and caffeine is safe," the statement reads. "If it were unsafe, popular drinks like rum and colas or Irish coffees that have been consumed safely and responsibly for years would face the same scrutiny that our products have recently faced."
Energy-alcohol drinks have been deprived of their punch before — Sparks, of two years ago, comes to mind — but this time an heir to Four Loko may not emerge. The FDA is considering a ban on all production of such beverages.
So, health officials concerned for Loko-addled kids: start rejoicing. Loko-addled kids: start stockpiling.