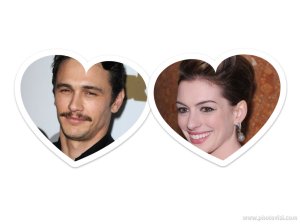 Meet your hosts for the 2011 Academy Awards: James Franco and Anne Hathaway. Ever heard of these young upstarts?
James Franco is a Yale graduate student who moonlights in film. He can currently be seen in "127 Hours" cutting his own arm off with a tiny knife, and enjoys Denis Johnson stories. Anne Hathaway is an attractive lady with a fondness for money-laundering Italians. She likes to wear hats she buys in Paris, and you can currently see her strip naked for Jake Gyllenhaal at your local cinema multiplex. How did these lucky youths land the biggest gig in the award show world?
"James Franco and Anne Hathaway personify the next generation of Hollywood icons – fresh, exciting and multi-talented. We hope to create an Oscar broadcast that will both showcase their incredible talents and entertain the world on February 27," Oscar telecast producers Bruce Cohen and Don Mischer said in a statement. "We are completely thrilled that James and Anne will be joining forces with our brilliant creative team to do just that."
Will James finish his homework in time to make it to the ceremony? Will Anne put on any clothes? Tune in February 27 to find out!