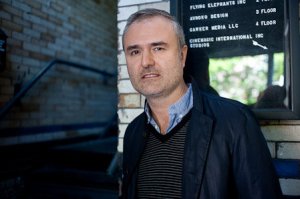 On Oct. 25, Gawker received a graphic crime scene photo from a tipster in the East Village. Gawker ran the photo, which showed the dead body of Christopher Jusko, a 21-year-old who was stabbed to death that same morning. After complaints from Jusko's friends and family, the picture was removed.
TBD's Ryan Kearney, a friend of Jusko's stepsister, Christina Rumpf, speculates that Gawker cruelly used because of its "unapologetic commitment to sensationalism" and pageviews.
When she saw the picture, Rumpf sent an email to Kearney and her other friends with the subject line, "Boycott Gawker."
"Gawker (as many of you saw) posted a pretty horrific picture of my brother, lying dead on the street in a pool of his own blood … If you would like to do something to help our family, please write to them and ask them to take it down," she wrote.
Some of Jusko's acquaintances also wrote comments on Gawker's post about the stabbing.
"I am begging you to take this horrible picture down. I know you are likely receiving plenty of shocked e-mails about this image. I know it both bleeds and leads, but please, as someone who knows his family, do not let this be an image that his mother cannot escape from," wrote one commenter who identified themself as Jusko's brothers roommate.
Hamilton Nolan, the author of the post about the stabbing, told Kearney why he chose to run the photo.
"The fact is that the photo was newsworthy, and that's why we ran it. The fact that it was unpleasant and graphic does not mean it was not newsworthy," Nolan said.
Gawker eventually removed the photo and posted the following update:
"Friends and family of Jusko have been in touch and asked that we remove the photo. We have decided to honor that request."
That editor's note seems to be the last we will hear about the incident from Gawker's downtown HQ.
"I've been asked not to comment," Nolan told The Observer.
Gawker Media publisher Nick Denton and Gawker editor Remy Stern have both not responded to requests for comment on this story. In the past, Denton his staff have been unrepentant about criticism of the content on the Gawker sites.
As of this writing, Nolan's post about the stabbing has received a little over 43,000 pageviews, a relatively modest sum by Gawker standards.
Full Disclosure: Hunter Walker has written for the Gawker Media sites Gawker.com, Deadspin, and Gridskipper.