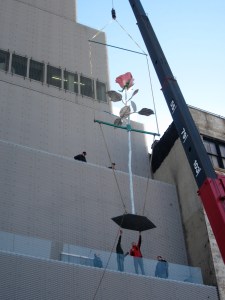 Hell no!
The New Museum has now replaced its infamous lapel pin with a boutonniere, as Isa Genzken's Rose II took the place of Ugo Rondinone's love-it-or-hate-it "Hell Yes" sculpture on the Bowery museum's facade yesterday.
Many people were unaware that Rondinone's work was merely temporary, and the same goes for Genzken's, which will be replaced in 2011 — making for a tenure of one year compared with its predecessor's three. The rose sculpture, which measure 28 feet tall, is on loan from a private collector who, as The Observer noted, paid 750,000 Euros for the sculpture.
Flavorwire has a nice compare and contrast.
Since this appears to be a pink rose and not a red one, Genzken does not so much love New York as like it. Not quite the exuberant enthusiasm The Observer has come to expect from the New Museum.