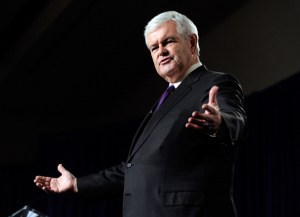 On Good Morning America this morning, Newt Gingrich said he would support a mid-term shake-up that installed Hillary Clinton as Secretary of Defense.
"She is knowledgeable, she is tough, I think that she'd be a very aggressive defender of the military in terms of what it needs, its budgets and its concerns," Gingrich told George Stephanopoulos. "If she would take it she would be terrific."
"I'm not sure she would have quite as much fun," Gingrich added. "I think she probably would have an even better time being Secretary of State."
The two served together on the Transformational Advisory Group for the Joint Forces Command, and Gingrich has publicly complimented Clinton on several occasions.
Except, of course, when he hasn't. During the last presidential campaign, Gingrich called her a "nasty woman" who had an "endlessly ruthless" campaign machine.