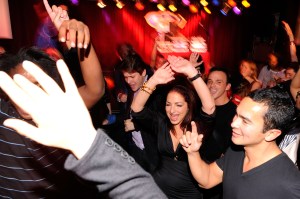 Gloria Estefan does not suffer from stage fright. Even though the Miami-based singer had never performed on Broadway before and was about to perform with the likes of Sarah Silverman, Elijah Wood, Kyra Sedgwick, Elizabeth Banks and Julia Stiles, she was not even slightly nervous. This is, after all, a woman who has sung in front of live audiences as large as 250,000, performed in close quarters for the last five U.S. presidents and even interviewed the Obamas for Spanish TV.
But still. Acting is not her day job. Wasn't she even a bit afraid she might forget her lines?
"I've got a good memory and can remember songs from when I was five years old. I gotta remember a lot of lyrics and I have that gift of memorization. Plus, the plays are short," she told The Observer.
Petit and curvy, her hair a subtle shade of magenta, she retains the no-nonsense focus that made her into one of the world's top-selling musicians.
'I met my husband at 17 and he was my first and only boyfriend. I told him he got the last virgin in the '70s,' she said with a cackle.
She is in New York for the Montblanc-sponsored 24-hour plays–the theatrical equivalent of running a marathon. Writers, actors, directors and production crews meet on a Sunday night at 10 p.m. for orientation and introductions. Afterward, the writers stay up all night writing six 10-minute plays. They also serve as casting directors, choosing the actors they want to perform. At 7 a.m. the next morning, the directors appear, pick their play and decide who plays which role. At 9 a.m. the actors return and rehearse until the curtain goes up at 8 p.m. The plays are performed only once. The 24-hour play charity, started in 1995, raises money for the Urban Arts Partnership, which encourages art education in public schools.
The Observer caught up with Ms. Estefan after orientation. Speaking in the long sentences of a seasoned interviewee, the Latin singer gives off the impression that not a lot fazes her. It's worth noting that a prop she brought from home was a judge's mallet. ("They call me Judge Judy at home.")
Born in 1957 to a military family in Cuba, she was not, as is commonly reported, the daughter of a bodyguard to Fulgencio Battista; her father was a motorcycle policeman. However, her family did have long-standing ties to the government and was forced to leave the country after the Cuban revolution. She grew up singing, but it wasn't until she met her future husband, Emilio, that her talent became a career. "I've been married for 32 years. I met my husband at 17 and he was my first and only boyfriend. I told him he got the last virgin in the '70s," she said with a cackle. They had two children, 15 years apart, interrupted by a debilitating accident in 1990, when a truck slammed into her tour bus, breaking her vertebrae. "I was paralyzed, but now I'm good, titanium-reinforced."
The play that Ms. Estefan ended up performing in, I Think You'll Love This One, was written by a 20-year-old winner of the Montblanc writers project, Elizabeth Cruz Cortes. The setting was a children's birthday party, and Ms. Estefan played the heroine who saves the birthday girl's feelings by singing a song for her. Her fellow actors were Diane Neal, Ejiah Wood and Alicia Witt.
Ms. Estefan performed her part with zeal, sung well and didn't seem to mind the fact that she had to prance around onstage with pigtails.
The rest of the plays went off without a hitch: Some were incredibly funny, some were slightly surreal, like The Bitch Downstairs, in which Jennifer Aniston made a guest appearance as a dead dog. Other standouts included Sarah Silverman as a love-struck woman who follows a glamorous poetry couple until she finds her own love, and Julie White as an avatar.
Afterward, at the cast party, Ms. Estefan's director, Ari Edelson, had this to say about her debut: "When you have people who are game and willing to take a risk, and not everyone is, it just goes in the right direction. Gloria was an anchor of sanity."
"I had a blast," Ms. Estfan said. "I kept waiting to be nervous and petrified, but there was never time. This was my kind of play, opening and closing in one night, no reviews."
dprince@observer.com