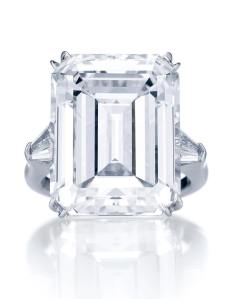 1330 Sixth Avenue
With the holidays coming, the twinkle in many a young woman's eye will soon be on her finger. Just in time, Harry Winston has doubled its corporate headquarters in the Pearson Building.
The jeweler has been nestled at 1330 Sixth Avenue since 2004, but now it will occupy 20,800 square feet on the entire 33rd and 34th floors. Asking rents in the building when the deal was struck in the summer were in the low $70s, but they've gone up since then, according to Crain's, which first had news of the deal.
The 534,000-square-foot building, one of Harry Macklowe's famed boom-time flips, went to Otéra Capital when Mr. Macklowe failed to make his mortgage payments. It's now up for sale.
Cynthia Wasserberger and Frank Doyle of Jones Lang LaSalle represented the landlord. Mark Boisi and Michael Hoffman of Cassidy Turley represented the tenant.