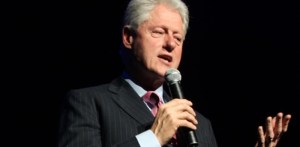 Republican National Committee representatives are doing their best to paint former President Bill Clinton's latest campaign stops as last-ditch efforts for flaling Democratic candidates.
"Bill Clinton's visit doesn't change the fact that New York Democrats have a record of failure on the economy after blindly supporting misguided and reckless policies that have killed jobs and stunted growth," said RNC spokesman Parish Braden in a press release.
Clinton is scheduled to make a stop in Saratoga Springs today to help Rep. Scott Murphy in the 20th district. Later in the day, he will be attending an event in Watertown to support Rep. William Owens in the 23rd district.
The RNC is trying to tie Murphy and Owens to House Speaker Nancy Pelosi.
"For the last two years, Scott Murphy and Bill Owens have towed the party line in support of a failed agenda of higher taxes, out of control spending and budget busting deficits," Braden continued. "With almost 160,000 New York jobs lost since passage of the Democrats' 'stimulus' and one day left until the election, upstate voters knows it's time for new leadership."
Last Tuesday's Siena poll has Murphy, the Democratic incumbent who won the seat in a special election last year, down by nine points to Republican challenger Chris Gibson.
Things seem slightly closer in Owen's race, with last Wednesday's Siena poll putting him three points above Republican Matt Doheny.